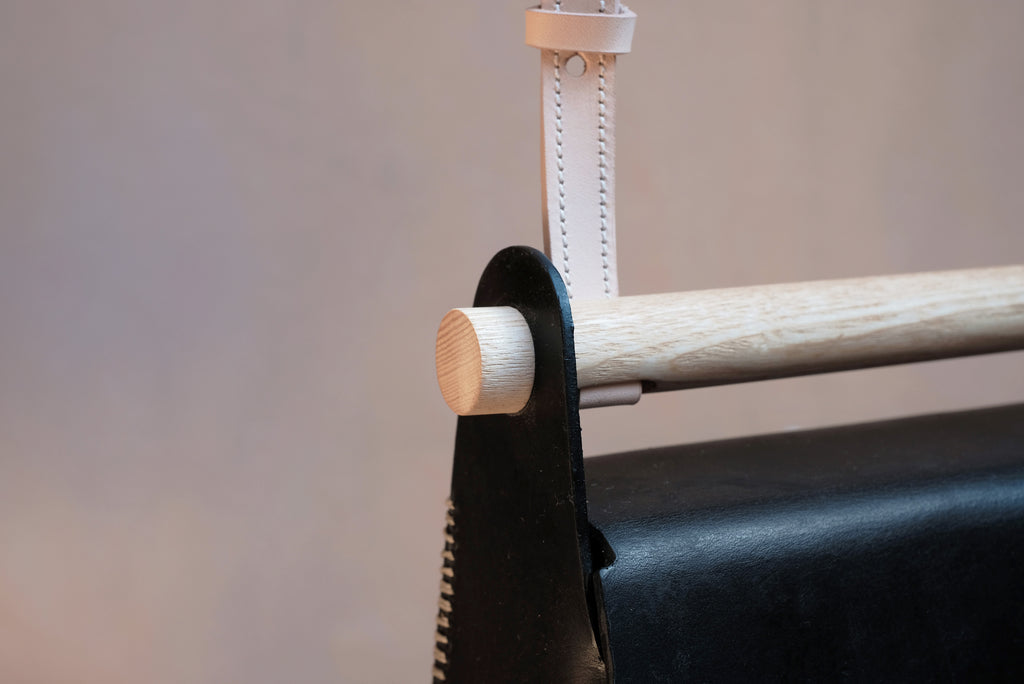 Rectangular black Hedjuk
$429.00
Concept:
Hedjuk bags are a reflection on the transformation of matter and the passage from two to three dimensions. They are an experiment on pattern and crafting systems, a game with primary geometries.
Features:

This bag has been created by a single piece of leather that folds on itself acquiring a geometric and rigid shape, for which we have used modelling techniques. It has been sewn entirely by hand using crossed seams on the edges that, together with its wooden handle, reinforce its primitive character and contrast with the geometry. All edges have been burnished and hand painted with water- based paints. It is a versatile bag that can be used in various positions. It has a 115 cm adjustable strap that can be easily removed.
Color: black.

Materials:

It is made of Spanish leather of first quality and vegetable tanned, free of chromium and heavy metals. It has no lining, so you can appreciate the leather on both sides. The detail of the flap is the same leather but natural. The inner pockets are made of soft natural undyed pad. The handle is made of ash wood. The adjustable strap is leather natural vegetable tanned. Trimmings used are nickel free.
Size:

Capacity: 23 cm (width) x 17 cm (height) x 11,5 cm (depth).
Total dimension: 23 cm (width) x 23 cm (height) x 11,5 cm (depth).
Options for use:

Option 1: Wear it with the strap as a shoulder strap or hanging over your shoulder.
Option 2: Remove the strap and use it as a handbag.
Details:

* The vegetable tanning leather has an open pore. It can be periodically hydrated, getting it to age naturally and being more durable. Likewise, this quality will make it darken with the passage of time and exposure to the sun, creating a patina of its own.
* Being tanned leather to the vegetable that has been wet during the modelling process, it is evidenced in a more forceful way small scars, stretch marks and natural folds of the leather that gives a unique character to each bag.
* We believe that we should make the most of the resources and the leather we use has undergone natural tanning processes, not chrome, for this reason it may present small variations in its colour and grain or traces of marks of the leather that will appear as a subtle pattern, bringing to each bag a unique character.
* As the manufacturing process is entirely handmade, the overall geometry is not perfect.
* This piece is limited edition and bears a serial number.
* Designed and handmade one by one in our studio-workshop located in Malaga, Spain.